10 tags
Where has the midfield gone?
There has been plenty to point at with regard to Newcastle United's current form.  The goals have dried up on the front end and they are shipping in on the back end.  You don't have to attend manager training to know that's a bad combination.  I personally believe the midfield is where this team has been lacking all year.  Service (including our wingbacks) has been poor to the...
10 tags
Previews and Predictions- Euro 2012 Semis
Germany vs Italy- National Stadium- Warsaw, Poland 2:45p EDT This is really difficult for me to call.  Germany is so, so talented and so German.  What I mean by that is they are so disciplined.  The work ethic is great and everyone seems to know their role.  They are so methodical it is almost robotic.  As I wrote last week, Germany never were frustrated against the Greeks, even as chances and...
12 tags
Previews and Predictions- Euro 2012 Semis
Portugal vs Spain- Donbass Arena- Ukraine 2:45p EDT So the 2 narratives are as follows: 1. Spain is boring to watch and 2. Can the team of one Cristiano Ronaldo defeat the team of Spain? As for #1, this is actually a sentiment I am beginning to agree with.  I do not, however, think it's Spain's fault.  Teams set up to play the same defensive, bus parking football against them and...
7 tags
Previews and Predictions- Euro 2012
Germany vs Greece- PGE Arena- Poland 2:45p EDT The Greeks have had another admirable tournament. After a tumultuous opening game against Poland, they fought off poor refereeing decisions to qualify for the knockouts. Can they shock everyone again like 2004? No, Germany is too good. Specifically, too disciplined. This is probably the worst team Greece could have drawn. Germany should have...
5 tags
Previews and Predictions- Euro 2012 Quarters
Portugal vs Czech Republic- National Stadium- Warsaw, Poland 2:45p EDT Is this the tournament where Portugal finally break through?   Leaning towards no but they have a great chance to make it to the semis. The Czech Republic have done really well thus far and this game isn't as easy as some have made it out to be.  Without Rosicky it will be very difficult however for the Czechs to pull...
11 tags
Euro 2012- Power Ranking Style
Figured there hasn't been enough coverage of the Euros so thought I'd help to fill that void.  Re-seeding the tournament in a power ranking style based on the group stage. 1) Spain- Defending champs of 2 international tournaments, have to be #1 until someone knocks them out. 2) Germany- Popular favorite.  Have looked very strong in the toughest group.  3) Italy- Really think 3-6 is...
8 tags
Devils are on to the Eastern Conference Finals!!!
The New Jersey Devils completed the "Gentleman's Sweep" (via @KatieBakes from Grantland)  of the Philadelphia Flyers to advance to the conference finals for the first time since 2003.  The Gentleman's Sweep 1) Devils were successful because they never got into the Flyers game.  There were no extracurricular activities and nothing after the whistle.  It didn't...
After the End
runofplay: Cue the End-of-an-Era music: Pep Guardiola has resigned. But from this vantage point what seems clear is that Pep's departure, and all the accompanying verbiage — about the intensity of his personality, his perfectionism, the hardware his team has won over the past four years, the success of the Barcelona Way, Pep as the embodiment of the més que un club ethos, and on and on — are...
Why I Love Sports (Soccer Edition)
2 singular moments, a mere 58 seconds of real time ended the Champions League Campaign for both Spanish sides.   Barcelona and Real Madrid were both in pole position in each of their respective Champions League semifinal second legs.  Momentum was with the sides.  The wind was at their backs.  Both teams were "flying," as they say, when 1 moment of a lack in concentration, and one...
9 tags
Occupy The Top 4
This is the first time I'm going to allow myself to believe.  As superstitious as I am I hope there is really no such thing as a jinx.  I really believe Newcastle United can qualify for the Champions League.   If Newcastle can take 6pts from their final 4 games (Wigan-A, Chelsea-A, City-H, Everton-A) I think they will have a real shot at qualifying.  This would also mean that they would...
5 tags
Mets Fan Problems
It's hard to be a Met fan.  After a 4-0 start, it's still hard to be a Met fan.  The reasons, however, may surprise you.  Sure, the ownership is a disaster.  Owing hundreds of millions of dollars and slashing payroll is not a fun spot to be in.  Even when they were throwing money at the team with assumed good intentions, the back office rumors were laughable.  With a decreased payroll...
6 tags
7 tags
6 tags
Newcastle (tiny) Pitch Invaders
Full disclosure upfront; I don't go out of my way to watch a ton of Stoke matches.  After watching Newcastle yesterday though, I have to say that tiny pitch at the Britannia really doesn't help Stoke all that much.  All it does is shrink the field down for wingers trying to get crosses in.  I've never seen Jonas cover ground like that.  He was stifling crosses and blocking balls...
5 tags
"On Eli: "I was always his biggest supporter, even days he wasn't on, 'cause I..."
– Plaxico criticizes Coughlin, Eli for lack of support | ProFootballTalk (via sportsnetny) I actually was really hoping Plax would be back with the Giants. He seemed to always be a safety net for Eli. He was an Eagles killer to boot. Shoot, I feel like the G-men haven't beat 'em since...
9 tags
Steven A. Rags on Eli re: Plax →
I'm not really sure where to even start with this.  A couple quick counter points and then I'm done with this post: 1) There is nothing to say that Plaxico will be any good and that he should be lobbied for.  The guy has been in jail.   2) Big Ben and his motley crew went out to lunch with Burress and yukked it up.  A lot of good that did.  He's not back in Black and Gold.  3)...
6 tags
Thank You, #15 Carlos Beltran
Part 1: Playing the Game I have always had a mixed relationship with baseball.  I grew up playing it.  I idolized my father, uncles and cousin who played it.  I would sit in the dugout of my cousin's team during games (my uncle of course coached).  I would play catch with my dad and have my mom throw me flyballs for hours on end after school. But, I quit playing when I was fairly young to...
7 tags
Angel in the Outfield →
I love that Gary was so distracted by the ball that he didn't use his trademark "It's outta here!" call.  Simply put, "and it's a Home Run."   Pagan just earned himself a t-shirt in my closet.  I've been waiting to buy a new Mets shirt and his celebration was bonkers.  Prob wasn't the classiest of moves, but it was raw emotion.  I don't...
6 tags
The DL Mets
Albert Pujols returned from a fractured wrist after 16 days.  Doctors felt the injury would take 4-6 weeks to recover from. Regardless of the severity of the fracture, coming back 2-4 weeks ahead of schedule is impressive.   On the other hand, you have Jose Reyes and the New York Mets.  Reyes tweaked his hamstring on 7/2 and Mets fans collectively worried that this reoccurring injury might be a...
Arizona- Duke Win Probability Chart →
Duke nose dive.   Courtesy of @kenpomeroy  http://kenpom.com  
"Fab Five" A Fabulous Non-Story
I have finally watched the "Fab Five" documentary on ESPN. I have a couple major issues which I've laid out below: 1) It was abundantly clear to me that Jalen Rose's comments were in reference to how he used to feel. I didn't for one second think that he was personally attacking Grant Hill or the Duke program in the present tense. He even made the gesture to publicly apologize to Grant Hill...
1 tag
The Mets vs The World
Apparently I'm not the only one who is hopeful about the Mets.  Excellent blog post by Will Leitch for New York Magazine.  I espescially like where he compares the coming together of Ricciardi, DePodesta, Ricco and Alderson as "Voltron-like".   http://nymag.com/news/sports/games/sandy-alderson-2011-4/ (my original post below) Original Emotional Fan post, 3/13/11: Have you...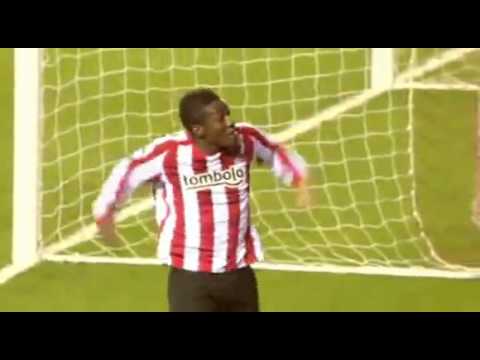 Newcastle snow training - further evidence Joey is...
toonarmymia: Newcastle Ninjas training as super-subs Joey "what fuckin snow" Barton Picture from Who Ate All The Pies Fantastic!  TOON! TOON!
5 tags
Toon transfers- Who must stay, will anyone go?
With the transfer window approaching and talk of Joey Barton leaving, I've decided to put together a list of the 4 essential Magpies that can not leave St James this year: 1) Andy Carroll- Obviously this one is a no brainer.  Despite the fact that our entire attack is built for him, he's a home grown lad and a promising heir to the #9 shirt.  I can't imagine what we would do...
6 tags
Giants Survive, This Week
Last season (2009) the G-Men crashed out of the playoff race with a terrible second half to the season (3-8 since week 6).  Overall, the team is 17-18 in the regular season since week 9.  If you include the playoffs, they are 21-20 including the 4 wins on the way to Super Bowl XLII.  Many people believe that Tom Coughlin is to blame for the late season swoons, however, he then must be responsible...
7 tags
The Wrigley Experience
Below is a timeline of my day at Wrigley Field watching my beloved NY Mets (for my Bachelor Party): 10:30AM- Murphy's bar, Beer, Friendly people, Space outside, Souvenir bar shirts printed on American apparel T's (I let that slide, the cotton IS very soft) 10:30AM- Sign outside Murphy's bar reads "Cubs go for 3 in a row, Champagne on ice" At least they have a sense...
Jenrry Call Up Possible for September
lauramets: hotfoot: theemotionalfan: According to the Daily News, the Mets are planning to bring Jennry Mejia on as a September call up.     I hate to be so negative with this team, but I can only assume this is the wrong call to make and/or they will use him in the wrong way.  I've listed some highlights from the article below:   1) Mejia's role will be determined by the teams position in...
2 tags
Jenrry Call Up Possible for September
According to the Daily News, the Mets are planning to bring Jennry Mejia on as a September call up.     I hate to be so negative with this team, but I can only assume this is the wrong call to make and/or they will use him in the wrong way.  I've listed some highlights from the article below:   1) Mejia's role will be determined by the teams position in the standings.  Assuming they...
5 tags
Manchester United vs Glazer Ownership
Can someone explain to me the disdain that Manchester United supporters feel towards the Glazers? (ESPN) The Glazers are an American family that currently owns United and fans have been protesting their ownership over the previous seasons and their "Green and Gold" campaign has been growing ever since.  It's difficult to understand what the opposition is all about.  Is it...
10 tags
Chance to Score Bellamy?- Celtic
Craig Bellamy to Celtic would be a massive boost for the SPL club.  It is pretty clear that he will leave City and Cetic, Spurs and Sunderland have shown interest (via ESPN) .  Another club has been thrown into the set as Mark Hughes has been rumored to be eyeing him for Fulham.  They had a good relationship while Hughes was at Man City and it's probably fair to say that Bellamy...
Even Springsteen couldn't make Jersey this cool →
newsweek: alittlespace: Andrew Romano on one of my favorite subjects: the Garden State. "…the Jersey trend taps into the defining cultural obsession of the moment: the allure of authenticity. In cities from Portland, Ore., to Portland, Maine, bookish lumberjack types are wearing hunting garments to art galleries and brunch. It is difficult to find a new restaurant that doesn't require its...
9 tags
World Cup Impact in America →
My thoughts on this subject stem from the mainstream media constantly posing the question of when will soccer "catch on" in America.  My buddy also posted an interesting quote on his blog (Content Consumer, linked in title), "Soccer may never be 'America's game' (though it's already one of them), but America is game for soccer." What I'm wondering is...
5 tags
Luis Suarez- Hero or Villan?
Well the easy answer is to say he's both.  To Uruguayans, he sacraficed himself for the betterment of the team.  When all was lost, he was willing to do whatever it took to help his team.  To Ghanaians, and many others, he is a dirty cheat.  He clearly broke the rules of the game and in turn stole what would have been the game winning goal away from Ghana.  Of course all of this would be...
5 tags
Closing Thoughts on USA Soccer
There are a few things that need to be cleared up for the casual fan now that the US Men's National Team has come to an end. The biggest is that we aren't that good at soccer.  Our touch and passing lacks many of the South American and European teams.  I'm not just talking about Brazil here either. There are a couple reasons that we think we are better than we are in reality: ...
4 tags
America Unite! →
Met fans, Yankee fans, Phillie fans, Americans.  It is time to come together.  It is time to bear arms and point them not at each other as we are so accustomed, but raise them together in support of the Red, White and Blue.   Fellow Met fans, while you're in your neighborhood bar rooting on the US of A this Saturday, appreciate your pretentious Yankee fan neighbor who thinks we should win...